A recent Government Review-'Thriving at Work' (2018) highlighted the strong business and human case for improving workplace wellbeing.  The shocking statistics evidenced that poor employee mental health costs employers up to £42bn per year...The annual cost to the UK economy was also estimated at  £74- £99bn.  However, case studies demonstrate that when employers invest in improving employee mental health, a consistently positive return on investment is achieved.   
Whilst the reasons behind mental ill health are not always work related, employers still need to know how to address it.  Strong business case aside, this is not optional; employers are under a legal obligation to take 'reasonable care' for the health and safety of employees in the workplace, and the 'Equality Act 2010' extended this to a duty not to discriminate because of a person's disability.  Mental health issues may constitute a disability under certain circumstances, which could mean the employer is legally required to make reasonable adjustments to support the employee.
The training uses the new ACAS framework and real case studies to outline simple, practical steps that Managers and Supervisors can take to navigate the terrain with increased confidence and promote staff well-being, leading to reduced absence and presenteeism.  This in turn will improve productivity and minimise the impact of mental ill health within the workplace.  In addition, it will challenge common misconceptions regarding mental health and explain how supporting staff need not be costly or time-consuming. 
And should you need any further convincing…A recent survey by 'Health Shield' revealed that nearly three in five employees claim proactive mental wellbeing support at work would help them feel more loyal, be more productive and take less time off work…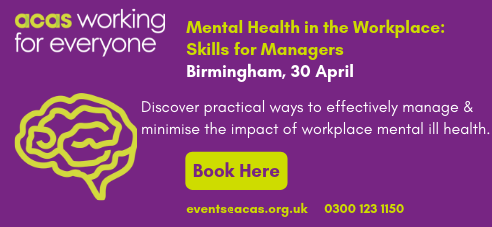 Mental Health in the Workplace: Skills for Managers, Birmingham, 30 April & 17 July
To Book: Please call ACAS on 0300 123 1150 or email [email protected]