Henley Engineers
A family manufacturer in south Warwickshire has been helped to buy a machine to generate its own nitrogen – and it's positive news for the wider supply chain.
Henley Engineers, which is based in Henley-in-Arden, was supported by the Coventry and Warwickshire Chamber of Commerce to secure a £10,000 grant towards the £60,000 machine bought from a Rugby-based supplier.
The company is a fabricator of metals and supplies laser-cut parts to a range of industries, including Solihull-based Whale Tankers which is one of its biggest clients.
Henley Engineers, which is run by Paul Warmington and his son, Nick, previously spent between £15,000 and £20,000 on tanks of nitrogen each year – and could, very often, be waiting on supply.
Nitrogen is required in the laser cutting process to ensure that there is no contamination that could alter the course of the beam.
Being able to generate its own supply will make the firm more time and cost efficient and means even better service for its customer-base. It will also allow the company to cut thinner materials in carbon steel at no extra cost.
The company employs 22 people and would like to grow that figure by moving into new premises in the south Warwickshire area.
Paul, whose grandfather established the business and passed it onto his father, Derek, said the firm had the potential for more growth.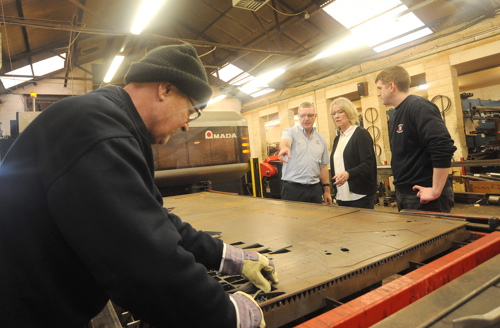 Pictured: Paul Warmington (left) points out the process to Martyne Manning, of the Chamber, with Nick Warmington.
He said: "We've invested £750,000 in machinery in the past six years and this latest piece of technology is going to make us even more efficient – we are really grateful to the Chamber for supporting us in accessing the grant funding.
"They have been great with general support and advice too and I know they are raising the general issue of the availability of business land and the affect it's having on companies' ability to expand.
"We'd love to move – either to a newly built unit or an existing property, ideally in the Stratford district area because that's where our staff are from.
"The new machine and our existing technology and expertise gives us the chance to grow further – we have more than 15,000 parts on our database.
"The latest machine gives us greater flexibility and the opportunity to be more efficient and we are excited for the future ahead."
The grant funding was provided through Coventry City Council as part of the Coventry & Warwickshire Business Support Programme which is part funded by the European Regional Development Fund (ERDF).
Martyn Manning, a business coach with the Coventry and Warwickshire Chamber of Commerce, said: "It's great to be able to support a business in this way – especially a long established, family-run manufacturer.
"There is grant-funding available for eligible projects of this type and we can help steer businesses in the right direction to help with this kind of capital investment."

The Coventry and Warwickshire Business Support Programme is receiving £6.3 million of funding from the England European Regional Development Fund (ERDF) as part of the European Structural and Investment Funds Growth Programme 2014-2020.  The Department for Communities and Local Government is the Managing Authority for ERDF. Established by the European Union ERDF funds help local areas stimulate their economic development by investing in projects which will support innovation, businesses, create jobs and local community regenerations.  For more information visit https://www.gov.uk/european-growth-funding