Events run by C&W Chamber Members
Welcome to our Member's Events page.  Here you can see a list of upcoming events which our Members are running, providing you with the opportunity to extend your networking reach and build your contacts.
We are happy to promote any events that our Members are holding via our website and social media platforms.  Members can submit their events now, via their Member Profile page.  To access this area you must login here. This is a free member only service.  Not a member?  Get in touch with our Membership Team or Join Today.
Instagram for Business
The Star & Garter, 4-6 Warwick Street, Leamington Spa, CV32 5LL
Date: 11 June 2019 - 10:00am - 1:00pm
Using our 16 years retail experience we'll show you how to use Instagram to find your customers and convert them into superfans. We'll help you understand how independent businesses can create a superpower that enables them to build powerful relationships on Instagram that will convert into sales and leads.
You will learn:
How to create a business profile with impact.
How to create engaging content that converts to sales and leads.
Mastering hashtags to reach a new audiences.
Use Instagram Stories to build your brand story and create authentic content.
How to engage micro influencers and create brand advocates.
Content planning- how to effectively manage your time on Instagram.
How to use Instagram Insights to learn about your customers,
Our morning workshop is designed for retailers or businesses who are selling products or services and are already on Instagram but want to understand how to use it to grow their business in an engaging and genuine way that customers will want to engage with.
Read more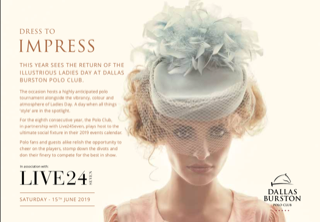 Ladies Day, Dallas Burston Polo Club
Dallas Burston Polo Club, Stoneythorpe Estate, Southam, Warwickshire, CV47 2DL
Date: 15 June 2019 - 11:30am - Late
The occasion hosts a highly anticipated polo tournament alongside the vibrancy, colour and atmosphere of Ladies Day.  A day when all things 'Style' are in the spotlight. 
For the eighth consecutive year, the polo club in partnership vibrant, the polo club in partnership with Live 24 - Seven, plays host to the ultimate social fixture in their 2019 events calendar.  Polo fans and guests alike relish the opportunity to cheer on the players, stomp down the divots and don their finery to compete for the best in show.
To book a table at the event please cal 01926 811 111, email - [email protected] or online www.dbpoloclub.com
The Midsummer Ball with Marks Brothers
Nailcote Hall, Nailcote Lane, Berkswell, Warwickshire, CV7 7DE
Date: 15 June 2019 - 7pm - till late
You'll dance to the Soul and Funk Sounds of Bruno Mars, Michael Jackson, Earth Wind and Fire, James Brown and Stevie Wonder.
A night loaded with Sax' Appeal, sure to make it a hot hot hot summer party!
TICKET PRICES INCLUDE 3 COURSE MEAL - WE WILL CATER FOR ANY SPECIAL DIETARY NEEDS BY PRIOR ARRANGEMENT
Read more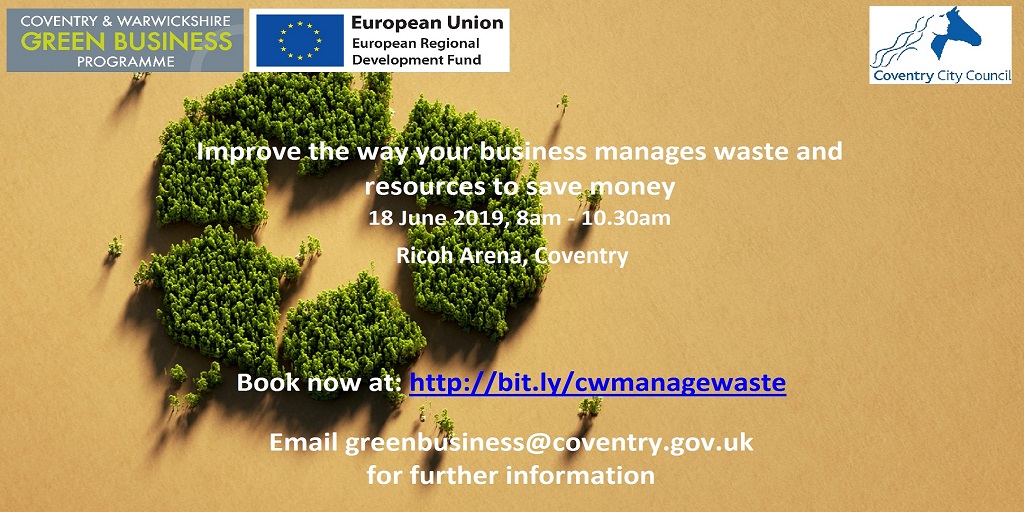 Improve the way your business manages waste and resources to save money
Ricoh Arena, Judds Ln, Coventry, CV6 6GE
Date: 18 June 2019 - 8:00am - 10:30am
Does your business generate a lot of waste or consume a lot of material, water or energy? The Coventry & Warwickshire Green Business Programme can advise on how your business can reduce waste, increase recycling, manage resources efficiently and achieve environmental targets to reduce costs through funded opportunities.
Every workplace produces waste. Its management and control are crucial, because waste affects the environment and costs organisations money. This free breakfast event will identify the benefits of finding better ways to manage your waste and advice will be provided on energy and resource efficiencies which can be gained through our grant funded programme or free audits.
This event will:
Outline how your company can achieve substantial cost savings, and contribute towards creating an environmentally sustainable economy 
Demonstrate the best techniques for collecting waste (storing it safely, sorting it for recycling) and moving towards a circular economy
Provide guidance on how an environmental management system could improve your overall processes to reduce waste and lessen your environmental impact
Identify the cost effectiveness of managing waste, resources, energy, water and materials efficiently
Showcase exemplar local businesses who have discovered improvements in production methods to reduce the amount of scrap that is generated
Detail access to new funding opportunities for small to medium sized business in Coventry and Warwickshire, including grants up to £50k, with details on free energy and resource/waste efficiency audits 
Allow you to network with other businesses over breakfast and coffee
After the event, further support and guidance will be given by the Green Business Programme, to help your organisation quantify energy, resource and cost savings. Refreshments and a breakfast will be provided. This event is funded by the European Regional Development Fund (ERDF) and is being delivered by Coventry City Council.
Spaces are limited and are on a first come, first serve basis, so please book early to ensure a place and avoid disappointment.  REGISTER HERE
Leadership and Team Building Exercise Midland Challenge!
Nesscliff Army Camp, Shrewsbury, Shropshire, SY4 1BH
Date: 20 June 2019 - tbc
Once again the Army West Midlands will be hosting our famous Leadership and Team Building Exercise Midland Challenge!
Midland Challenge will develop leadership skills, team build, improve your Communication, First Aid and Navigation skills as well as introduce you to all the skills and trades involved in the British Army.
The Exercise is free to attend but book your teams in early to avoid disappointment. Teams from the HE/ FE and Student Community will take priority.
The dates for Ex Midland Challenge are; 20-22 June and the 19-21 September.
All will be based out of Nesscliff Army Camp in Shropshire
Please contact me: [email protected] to book your teams! More details of the Exercise will follow in the New Year.