Go For Growth EU hotline to go live
The Chamber, which has been established for more than 110 years, announced ahead of the decision that it would be launching a Go For Growth Post Referendum Telephone Support line to go live on Monday, June 27 and advisers will be available to offer impartial support to businesses.

Louise Bennett, the chief executive of the Coventry and Warwickshire Chamber of Commerce, said: "The referendum has, in itself, caused a great deal of uncertainty within the economy and while we now have a verdict, the uncertainty will continue due to the fact that we don't know the process and the timescales of the exit.

"We have already seen the market reaction to this and that will be of major concern to businesses and individuals and that means we are going to need very strong leadership at all levels.

"The first priority is ensuring stability – this, above politics, has to be put first.

"Chamber members were split on what outcome they wanted but a leave vote was always going to be the most difficult to mitigate but that's not to say that it should put business growth on hold – but it does mean we need clarity on how we move forward and clear and decisive action.

"We decided we would launch the hotline whatever the outcome in order to offer impartial advice. In the short term, other than the uncertainty, nothing should technically change but as we have seen previously confidence is key and it's vitally important that we get a proper plan to deal with this verdict.

"So we wanted to offer businesses the reassurance that they can grow and prosper and go ahead with their plans for expansion.

"In the long term, of course, it's vital that the government negotiates the very best deal for the UK and one that puts our opportunities to trade with the EU and the rest of the world at the very centre of our exit strategy.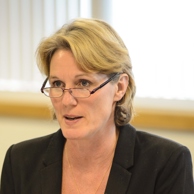 Louise Bennett OBE DL
  Chief Executive